Software download page
This page is where the very small number of hobby projects of mine that have reached any stage of completion are left to languish. Most of the work on this page is very old and of no relevance to today's computing culture.
When I first got into programming, native desktop application development was where I wanted to be, hence the lack of fashionable mobile and web apps on this page. Sadly, the web took over and now we have to write everything in javascript.
Haskell
These are some of the apps I've made in Haskell.
XBlite
XBlite is a structured and compiled dialect of BASIC which works quite well for Win32 development. I haven't used it in many years, and I'm not actively maintaining any of these programs.
Liberty Basic
Liberty BASIC is an interpreted BASIC which had a strong community some years ago. I used it to get into Windows programming (previously I'd been using QBasic under DOS). These programs are very old now and I'm not even sure they'd still run under the latest versions of Liberty BASIC.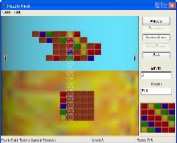 A simple game I wrote back in 2004. Requires Libery BASIC to run.